Customized Color PET Tamper-evident Non-transfer VOID Security Label / Sticker
Customized Color PET Tamper-evident Non-transfer VOID Security Label / Sticker
Details
Customized Color PET Tamper-evident Non-transfer VOID Security Label / Sticker
Product Details on Tamper-evident Non-transfer VOID Sticker
Non-transfer tamper-evident label is a special security sticker that is without residue while also has tamper-evidence proof after peeling.
Its color is popular in matte blue, and red, and customized color such as purple is also available.
High-quality PET material and cutting-edge technologies are adopted when producing those tamper-evident non-transfer VOID stickers, it has a hidden word that cannot be seen without opening. Once opened, it cannot be resealed.
As its non-residue property, it is useful for products like electronic goods, mobile cameras, and many other applications.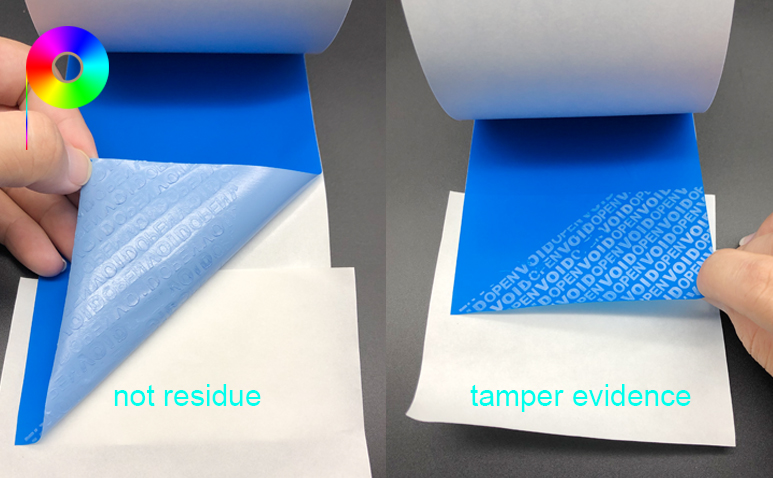 What Is Hologram Sticker?
A hologram sticker is a flat adhesive label that gives the visual effect of containing a 3D image. They are often used for security purposes, as hologram sticker printing is a difficult process that can only be replicated using the original "master hologram", which is a diffractive optical device made with laser technology that cannot be copied, or electronically scanned or duplicated by any known printing method.
It has the property such as a high-security warranty, anti-counterfeiting, brilliant color, clear visibility, and dynamic illusion effect.
Where Is Hologram Security Sticker Used?
Hologram sticker is widely used in the fields of packaging, printing, decoration, tobacco and alcohol, and medicine, etc.
For more information on security hologram stickers such as FAQ, packing details, and guarantees, please click HERE.
Contact PNP Film Directly
| | |
| --- | --- |
| Contact : | PNP Film |
| Phone : | +86 17306017582 |
| Email : | info@pnpfilm.com |
| Skype : | +86 17306017582 |
| Wechat : | +86 17306017582 |
| Address : | Room 209, No. 12, Huaguang Road, Huli District, Xiamen |