80μm A4 Size 216mm*303mm Matte Polyester Thermal laminating Film for Pouch Laminator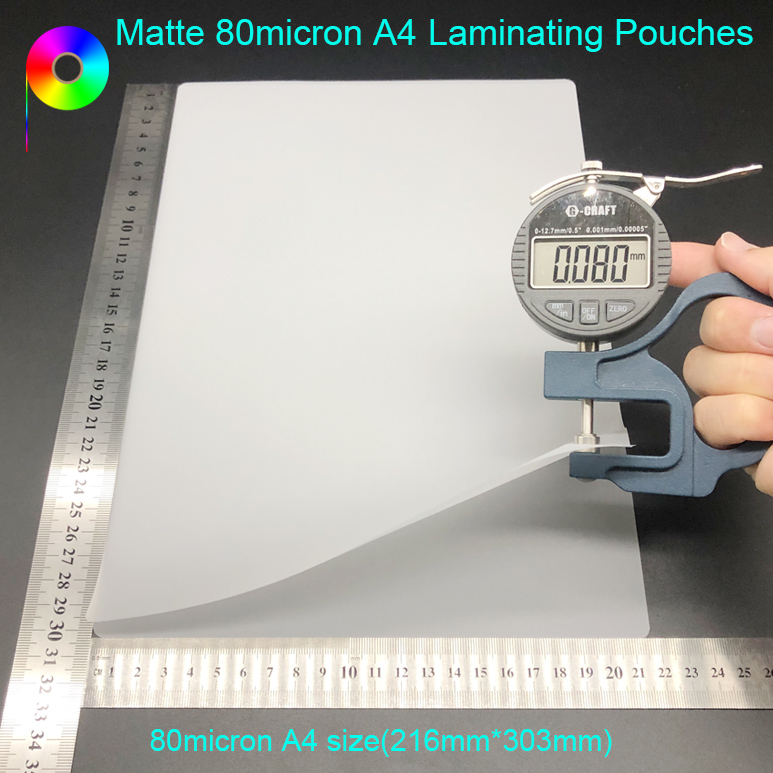 80μm A4 Size 216mm*303mm Matte Polyester Thermal laminating Film for Pouch Laminator
Details
80μm A4 Size 216mm*303mm Matte Polyester Thermal laminating Film for Pouch Laminator
80μm polyester thermal laminating film is usually in the composition of 50μm PET film and 30μm EVA adhesion. By A4 size which is usually in package of 100 pieces per box, the unit weight is about 1.26 kgs/box.
We use pouch laminator for completing the lamination process, after prints are placed into the middle part of the laminating pouch film, the inside heat melt adhesion adhering to the prints as it runs through the laminator with reasonable speed, temperature, and pressure.
Matte finish hot laminating pouch film is a special laminating pouch which has a matte finish on the surface. Due to its matte finish property, it is mainly used in specific conditions, such as a laminating pouches requiring writing and rub for reuse, laminating pouches requiring directly seen under sunlight, etc.
What Is PET Pouch Laminating Film?
PET pouch laminating film, also known as laminating pouches, laminating pouch film, document laminated pouches, is a pre-cut sealable plastic sheets used as consumables in the pouch laminating process. It adopts PET film as the base film and then coats with EVA hot melt adhesion. Thickness and size are the two most important factors when selecting lamination pouches. The thickness is popular in 125/150/175/100/75/250micron, available from 38micron to 350micron, which is in a different combination of PET film and EVA adhesion. And the size is popular in A4/A3/A5/B4/B3/A6/A2, available from A1~A6/B1~B6, customized sizes are available.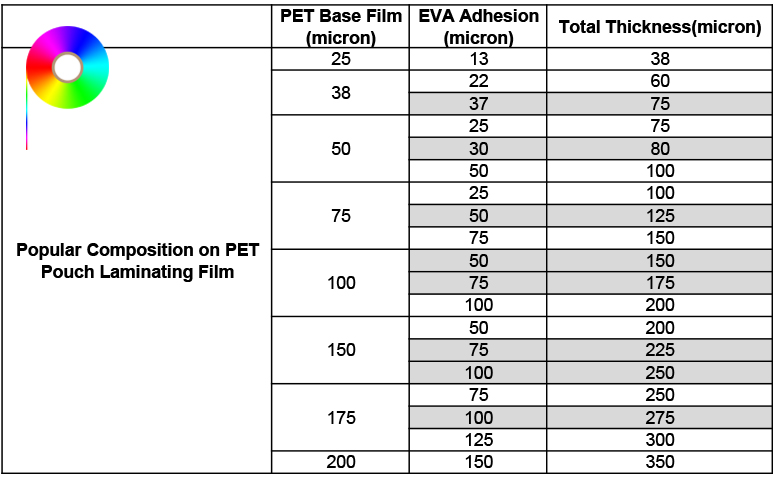 Where Is PET Laminating Pouches Used?
PET laminating pouches are used as a consumable when pouch lamination process. Photo lamination and document lamination are the two most popular fields that laminating pouches are used in. The prints after lamination have the property such as waterproof, dustproof, fade-resistant, anti-reflection, which offer protection for the prints and greatly extend the service life of the prints.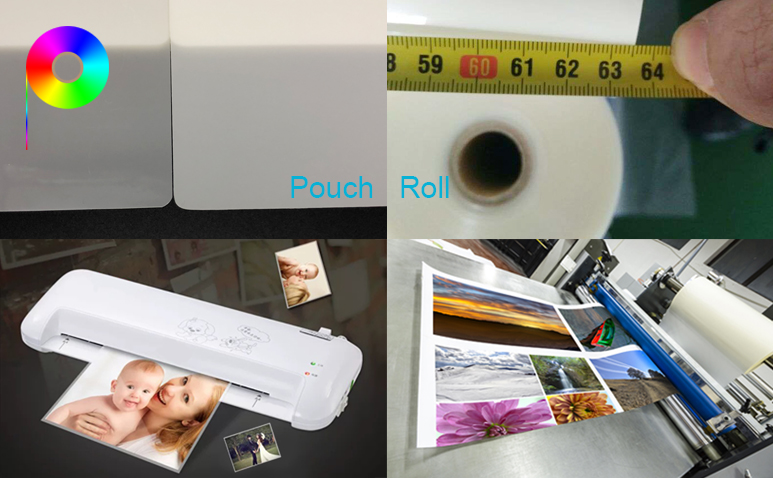 How to Use PET Pouch Laminating Film?
There are two different types of laminating process for using PET laminating pouch film. The first one adopts a simple laminator for home use or office use, we just need to purchase a laminator and complete the laminating process as the instruction attached with the laminator(no need of any training). The second one is used in the printing house, which adopts a laminating machine, such lamination process needs systematic training for the staff such as temperature, pressure, and speed.
The laminating process is in the same theory, the laminating pouch or film roll passes through the heated roller with suitable speed and pressure, and the EVA adhesion which is coated on the inner side would melt and bond the paper prints such as photo, documents, etc.
For more information on laminating pouches such as what is laminating pouches, where is laminating pouch used, how to use laminating pouches, FAQ, packing details, guarantees, please click HERE.
Contact PNP Film Directly
| | |
| --- | --- |
| Contact : | PNP Film |
| Phone : | +86 17306017582 |
| Email : | info@pnpfilm.com |
| Skype : | +86 17306017582 |
| Wechat : | +86 17306017582 |
| Address : | Room 209, No. 12, Huaguang Road, Huli District, Xiamen |